For larger cakes or a wedding cakes, please contact our former baker, Dorothy!
Help Wanted
We are looking looking for full-time counter help. We're in Wainscott, NY. For more details please email us at breadzilla84@gmail.com or call us at 631-537-0955.
---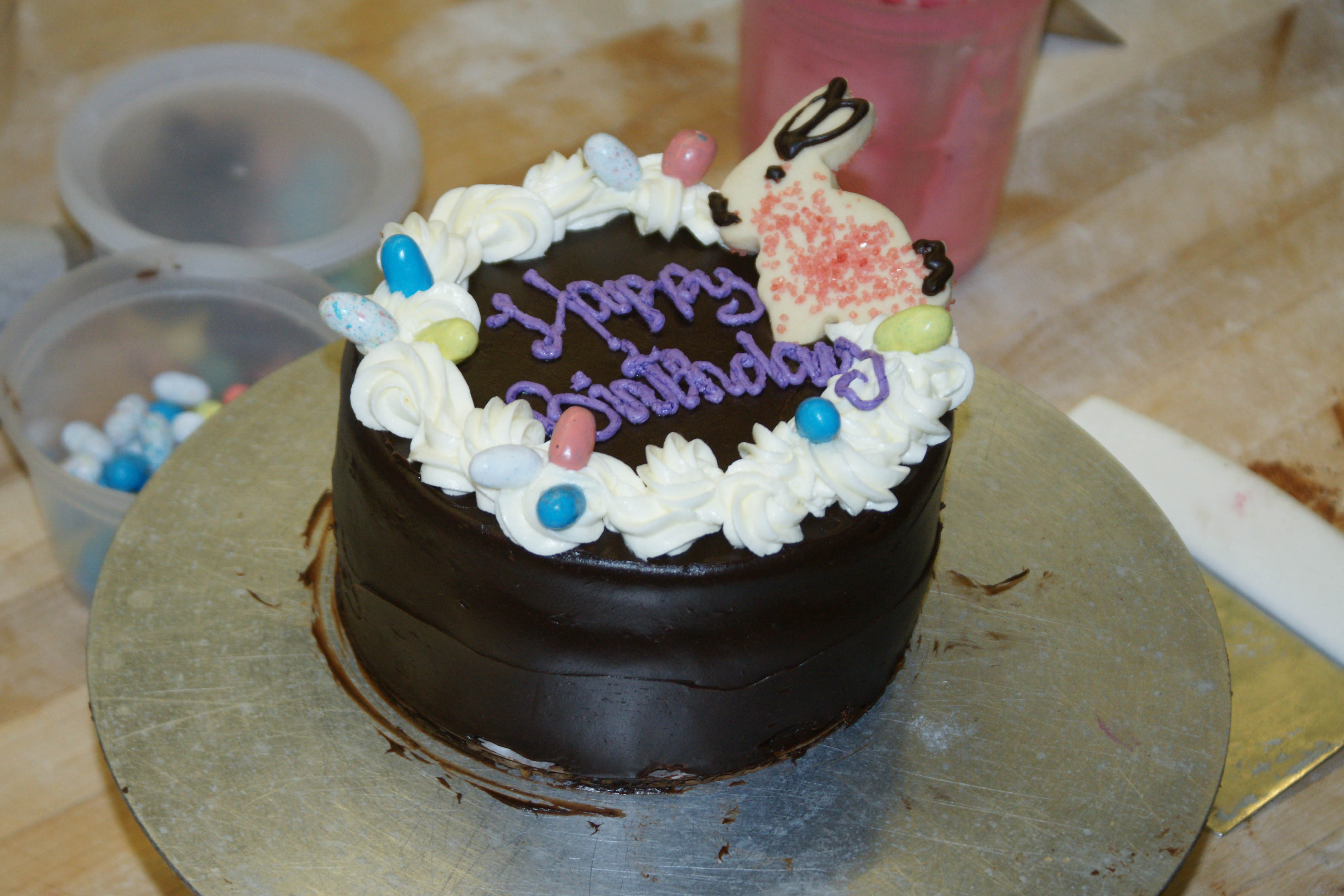 Please Keep In Mind That We DO NOT Take Orders Over Email. If You Would Like To Place An Order Please Call Us at (631) 537-0955.
We make traditional layer cakes with assorted filling and icing (frosting) choices. All are made from scratch from our own recipes using the best ingredients available. Please allow a minimum of two days notice for all orders. We try to always have a selection available on hand for cake "emergencies" and we will accommodate last minute orders when possible.
Allow cakes and cupcakes warm to room temperature to experience the best flavor and texture.
Chocolate Cake
Dense, moist, old fashioned devils food cake made with butter, sugar, eggs, cocoa powder, flour, water, vanilla, baking powder and salt.
Vanilla Cake
Buttery yellow cake made with butter, sugar, milk, eggs, flour, baking powder, vanilla, canola oil and salt.
Carrot Cake
A moist spicy cake made with carrots, brown sugar, eggs, canola oil, buttermilk, flour baking soda and spices. No nuts. No raisins.
ROUND CAKE SIZE – TWO LAYERS
4 inch: Serves 2 ››› $20.00
6 inch: 6 – 8 servings ››› $35.00
8 inch: 12 – 16 servings ››› $45.00
10 inch: 20 – 25 servings ››› $75.00
CAKE ICINGS
VANILLA BUTTERCREME
We make light, fluffy, melt in your mouth, French Meringue Buttercreme. Ingredients are egg whites, sugar, sweet butter, and vanilla. Nothing else. Because it has a significant amount of butter it is quite firm from the fridge.
CHOCOLATE BUTTERCREME
Vanilla Buttercreme with the addition of Chocolate Fudge, producing a light Chocolate Buttercreme which is rich and chocolatey yet light and fluffy.
MOCHA and LEMON BUTTERCREME
Are also available upon request.
DARK CHOCOLATE FUDGE
Made with the best Barry Callebeaut chocolate, 40% Heavy Cream, sweet butter, sugar and vanilla. A.K.A. Fudgy Chocolate. Hands down our most popular icing! Delicious on almost everything. Dense and chewy cold, smooth and silky when warm. Either way if you love chocolate this icing is for you.
CREAM CHEESE ICING
Classic on Carrot Cake. Made with Philly Cream Cheese, sugar and cream. Delicious with chocolate cake as well.
CAKE FILLINGS
Standards
CHOCOLATE MOUSSE
Light in texture, rich and decedent in flavor. A blend of French Meringue, Whipped Cream, with bittersweet and semi sweet Callebeut Chocolate.
RASPBERRY MOUSSE
Gently simmered whole raspberries, thickened slightly with cornstarch, blended with whipped cream for a heavenly taste of summer any time of the year.
VANILLA PASTRY CREAM
Homemade vanilla pudding. Milk egg yolks, vanilla and cornstarch.
WHIPPED CREAM
Just Heavy Cream and a little sugar. No additives or stabilizers. We use 40% butterfat heavy cream for everything at Breadzilla.
FUDGY CHOCOLATE
See description above.
CREAM CHEESE
See description above.
Special Order Fillings
MOCHA CUSTARD, LEMON CURD
ORANGE CURD, PEANUT BUTTER MOUSSE
FRESH STRAWBERRIES, CHOCOLATE PUDDING
6″ Cake Add $5.00
8″ Cake Add $8.00
10" Cake Add $15.00